Al Nietzel, Corporate Executive, Elected to BCU Board of Directors
September 4, 2019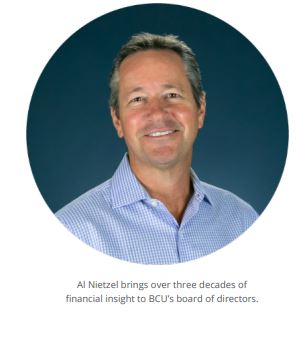 BCU has announced the election of Alfred Nietzel to its board of directors. Al is a welcome addition to the board, bringing with him over three decades of extensive domestic and international experience across multiple industries.
"We're so excited to welcome Al to our board of directors," Mike Valentine, BCU President & CEO said. "His vast array of experience working with global partners will help strengthen our operations and corporate partnerships."
Al began his career with Proctor & Gamble in 1985, where he held multiple sales and finance roles in domestic and international locations including Australia and the United Kingdom. Throughout his 17 years with P&G, Al forged alliances throughout the consumer-packaged goods industry, and fostered valuable relationships which have continued throughout his career.
In 2001, Al joined Automatic Data Processing, the world's largest global Human Capital Management technology company. Throughout his 17 years with ADP, Al held multiple senior executive roles including CFO for the Dealer Services and Employer Services Divisions and ADP Corporate Controller. Al also served as a Corporate Officer for the company.
In 2014, Al led the $2B ADP spinoff of its Dealer Services Division, forming the new public company, CDK Global. As CDK's Chief Financial Officer, Al's financial leadership and strategic acumen enabled the company to successfully drive significant shareholder value.
In addition to serving on BCU's board of directors, Al also serves as a board member for public and not for profit organizations.