BCU Earns Silver MAC Award for Financial 5K Giveaway Campaign
July 1, 2019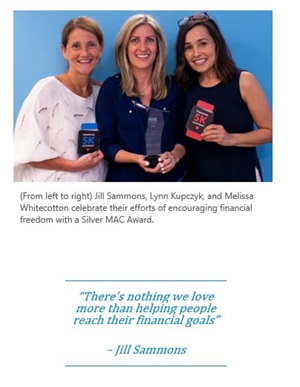 The Marketing Association of Credit Unions (MAC) has honored BCU with a silver award in recognition of its innovative financial education efforts in the Business Development category at the annual conference in New Orleans, Louisiana.
Since 1986, the MAC Awards have acknowledged outstanding achievement in credit union marketing. BCU's Financial 5k campaign was designed by the Credit Union's in-house marketing team to drive awareness around the importance of emergency savings — one of the four core strategic pillars of BCU's financial well-being program.
"This campaign was all about inspiring financial confidence," Melissa Whitecotton, BCU creative development manager said. "On average, 40% of adults have less than $400 in emergency savings. The goal of the Financial 5K Giveaway was to bring awareness to this statistic and give people the tools they need to empower change."
Mirroring the theme of financial well-being with physical fitness, BCU's marketing team designed smartwatch die cuts as unique and engaging creative to promote the financial well-being benefits of BCU membership. The die cuts particularly highlighted the complimentary one-on-one financial guidance the Credit Union offers through its Goal Consultant program — referred to as "financial fitness experts" for the campaign. Completing a few key steps toward confidently starting the journey to financial freedom gave participants the opportunity to win one of five well-being deposits in the amount of $1,000.
As one of Credit Union's largest Company Partners, team members at Target headquarters in Minneapolis, Minnesota and primary distribution center in Tempe, Arizona, were the targeted audience for the "Financial 5k Giveaway" campaign, reaching approximately 10,000 employees.
"The financial services market in Minneapolis can be very competitive, but BCU's strong partnership with Company Partner Target, as well as its valuable product and services, helps to differentiate the Credit Union as a unique and attractive option," Jill Sammons, BCU vice president of marketing and brand strategy said.
In total, the campaign generated 169 new Credit Union members, nine new member referrals, and 89 Goal Consultant appointments.
"There's nothing we love more than helping people reach their financial goals and collaborating with our Company Partners," Sammons said. "By incorporating our Shared Values, this campaign validated our courageous efforts and proves we are empowering our members to be financially free. We're delighted with the industry recognition from MAC."
Since 2013, BCU's in-house marketing team has established itself as a leader in the Credit Union industry with multiple MAC award titles for its campaigns. Last year, BCU received an award for the "Live Well at Target Challenge", and in 2017 for its "Great Savings Challenge" and "Picture Yourself Saving More" campaigns.