BCU Member Wins Once-in-a-Lifetime Shopping Spree in Credit Union Magic Minute™
December 10, 2019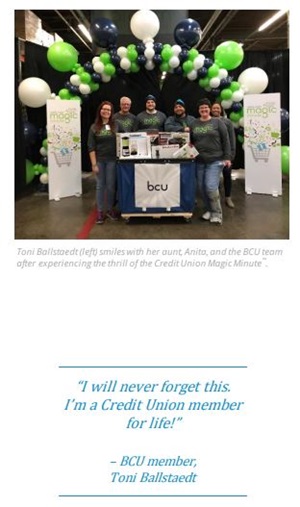 A lucky BCU member enjoyed a "grab-all-you-can-in-60-seconds" shopping cart dash through a warehouse filled with free, high-end merchandise as part of the Credit Union Magic Minute™.
One of seven winners nationwide, Toni Ballstaedt from Palatine, Il., scored the shopping spree of a lifetime after taking part in the 2019 Credit Union Magic Minute™ sweepstakes, a program developed by credit union service organization PSCU. Each of the winners receives an all-expense-paid trip for two to Chicago and the opportunity to pile as much merchandise as they can from warehouse shelves in just 60 seconds, with participants typically taking home an average of $5,000 worth of items.
With her aunt and partner for the dash unable to race, Ballstaedt, a BCU member since 1999, placed her faith in Credit Union lending product manager Nick Underwood who willingly stepped in to help.
With Underwood as her wingman, Ballstaedt raced through the aisles of the CURewards warehouse for an exhilarating 60 seconds, scooping up prizes that included a Toshiba flat-screen TV, Nintendo Switch gaming system, Roomba, air-fryer, kitchen appliances, home electronics, and more!
An Experience Most Can Only Dream About
In addition to thousands of dollars in merchandise, winners enjoyed an all-expenses-paid trip for two to Chicago on December 4 - 6 where they received full VIP treatment, including airfare, accommodation, meals, sightseeing, and entertainment. "It was such a surreal experience that most can only dream about," Ballstaedt said. "The energy coming from everyone was truly magical! So much thought was put into making the three days in Chicago so special for the winners. I will never forget this and am so grateful for BCU and PSCU. I'm a credit union member for life!"
BCU director of lending product management Mike Fox also cheered on Ballstaedt at the dash and was equally inspired by the spirit of the event. "The Credit Union Magic Minute is an unexpected, exciting way to reward our loyal members who put their trust in us and rely on us every day," Fox said. "Our rewards program is just one way we show our members they are more than just a number to us – they are extraordinary!"
Magic Minute is sponsored by PSCU, the nation's premier payments credit union service organization (CUSO). PSCU is proud to support this unique promotion that recognizes and celebrates the unique loyalty bond that exists between members and their credit unions.
< Previous Article | Next Article >