BCU's Women in Leadership: Being Empowered to Empower

March 23, 2022
Chicago - As women continue to break boundaries across the corporate landscape, particularly in the credit union space, BCU is proud to celebrate the leaders who are doing just that. Seven of BCU's women in leadership shared their experiences on leadership, mentoring others and what it means to live BCU's shared values.
What does it mean to be a woman in leadership at BCU?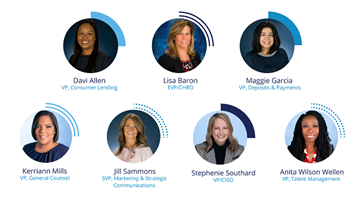 These leaders unanimously cited the importance of inspiring and uplifting fellow women. Vice-President/Chief Information Security Officer Stephenie Southard said, "[Being a woman in leadership at BCU] means having a voice, being a part of the strategy and walking side by side with others along our journey." Southard also expressed the hope that her efforts clear the path for many others to follow.
This mindset promotes a collaborative and inclusive workplace. Anita Wilson Wellen, Vice-President, Talent Management, also acknowledged her impact, saying, "I believe it's important to model positive behavior that defies stereotypes and ultimately supports and mentors other women." Living BCU's shared values of collaboration and inclusion, Southard and Wilson Wellen are helping make a safe space at the table for other women in the field.
What advice do you have for women in the workforce?
Courage plays a significant role in career development as is evidenced by the advice BCU's leaders were eager to share with their peers. Vice-President, Consumer Lending Davi Allen advises women to seek new challenges. "The times I find we grow the most are when we're the most uncomfortable," said Allen.
Integrity is another common characteristic valued by the Credit Union. Jill Sammons, Senior Vice-President, Marketing & Strategic Communications, advocates for women to act with integrity, saying, "Commit yourself to showing up every day with positivity and kindness. Elevate your professional and personal purpose, consciousness and humanity." Kerriann Mills, Vice-President, General Counsel, added, "I've found that – even in the most challenging circumstances – acting with integrity promotes sound decisions, creates genuine and fulfilling professional relationships and advances objectives and goals."
What does Empowering People to Discover Financial Freedom mean to you?
"I think what's special about working in this industry is that we not only get to work closely with our peers and support each other, but we get to support our members as well," said Lisa Baron, Executive Vice-President/Chief Human Resources Officer. These leaders all have the same goal when it comes to BCU's Purpose of Empowering People to Discover Financial Freedom – to wow Credit Union members. Maggie Garcia, Vice-President, Deposits & Payments, echoed Thomas' statement, adding, "Being able to help members achieve their dreams – no matter how big or small – makes me proud to be a leader." The same core values that drive BCU's women in leadership to influence and inspire other women also inform their actions and decisions in delivering extraordinary products and services to members.
With many incredible women on their leadership team and throughout the Credit Union, BCU remains committed to supporting and empowering women within the organization and beyond. Just a few of their ongoing efforts include an internal employee resource group that seeks to empower, promote and invest in women in the workplace through community outreach, career development, skill development and networking. The Credit Union is also a proud Corporate Partner of Lake County Haven, empowering homeless women and their children to achieve permanent, independent living. BCU's long-standing relationship with Jean Chatzky allows them to provide their membership with expert advice from the journalist, personal finance expert and CEO of HerMoney – a multimedia company providing financial advice by women, for women.
About BCU: BCU is a purpose-driven organization that empowers people to discover financial freedom. With $5B in assets, while being both not-for-profit and member-owned, the Credit Union is driven by the commitment to provide extraordinary service. BCU members enjoy access to financial services and well-being programming that inspire confidence through the brand promise "Here Today For Your Tomorrow." BCU is the financial well-being benefit partner for some of America's best companies, currently serving Fortune 100 workplaces throughout the United States and Puerto Rico. Lifetime membership is offered to employees and families of their company partners, and those living or working in Chicago-area communities. To learn more about BCU, visit BCU.org.